CHEMICAL DATABASE
The DIBANET Chemical Database provides information on the lignocellulosic, elemental and moisture contents of selected energy crops (e.g. Miscanthus), agricultural residues (e.g. from sugarcane, coffee, banana and coconut) and wastes of Europe and Latin America as well as on their predicted yields from biorefining technologies.
These technologies consist of, for instance, dilute acid and enzymatic hydrolysis of biomass, synthesis of mixed alcohols via catalytic processing of syngas derived from gasification of biomass, and Fischer-Tropsch synthesis of mixed range of linear hydrocarbons from biomass-derived syngas.
To
access the database
, please download the following file, open it with WinZIP or other unpacking software and run the setup.exe file:
DIBANET Analytical Database Installer
(Updated: 12 September 2012)
If you have Microsoft Access 2010 on your computer then the software will install automatically. If you do not have Access 2010 you first need to download Access Runtime 2010 free of charge from the following links: ENGLISH, SPANISH or PORTUGUESE.
After installation, the Database can be launched from an icon on your Desktop or from the Start menu. Please disregard the "Microsoft Access Security Notice" while opening the database as this operation does not pose a security concern. In case you have any technical difficulties, please contact us at .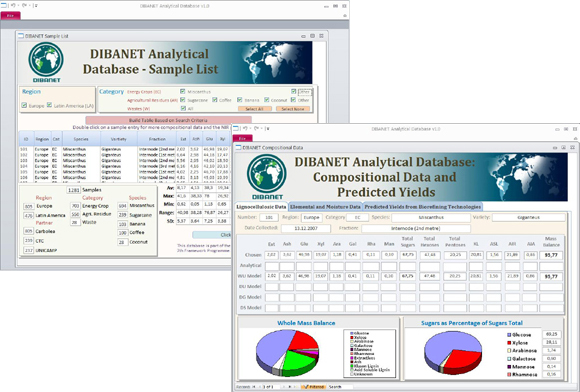 DOWNLOADS
Review of Biomass Feedstocks and Guidelines of Best Practice